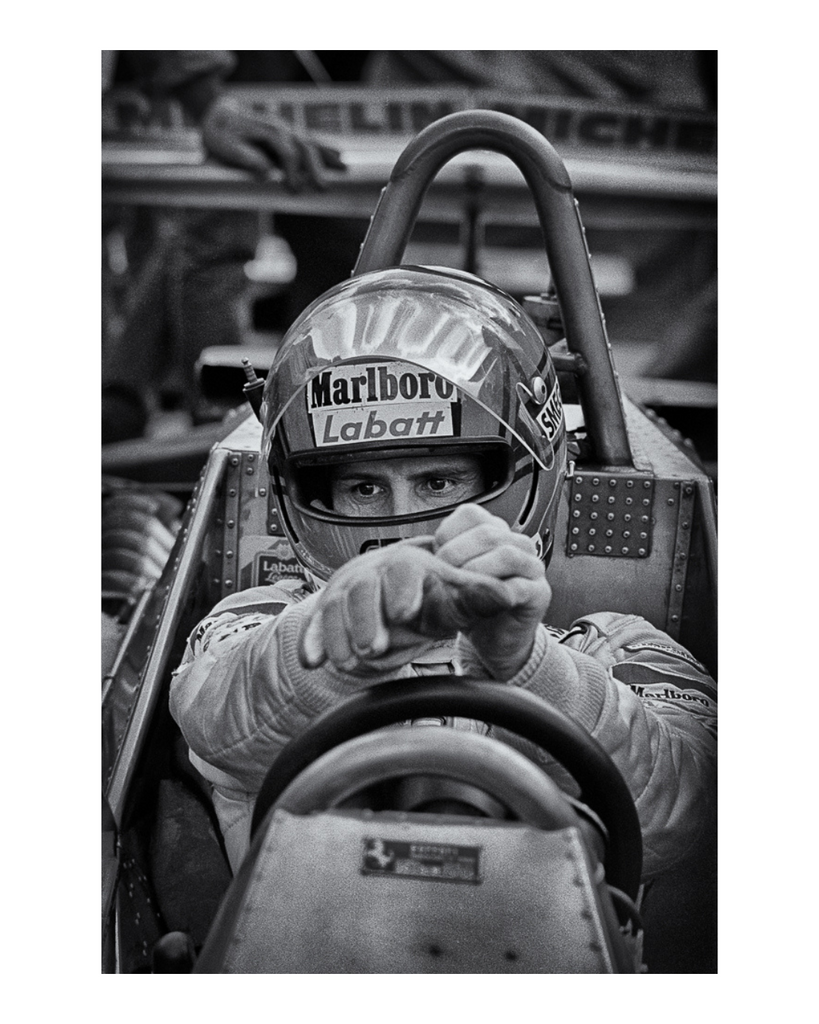 Hero
$542.00
I will always remember Gilles Villeneuve, alone in his 312T4, as rain approached and he prepared to win the 1979 US Grand Prix.
The weather was deteriorating quickly, and as drivers milled about, chewing their fingernails and speaking softly to their engineers, they all had their eyes on the darkening skies. While they intended to wait until the last instant to buckle in, Gilles was already sitting calmly in the cockpit; belts pulled to near race-tightness; the huge one-piece Ferrari cowling lying next to him on the tarmac.
Gilles had devastated the entire field during Friday's torrential rain-soaked practice; setting times 22 seconds faster than any Goodyear-shod car, and a staggering 12 seconds faster than his teammate, Jody Scheckter.
With Scheckter now unchallengeable as the new World Champion, Gilles was free to race for himself; doing lap after lap on the limit for the sheer joy of it.
As I sat next to him making these images, he was preparing to do it again. Wearing his "race face," he slowly put on his gloves as the air began to smell of heavy rain. If he was conscious of the worsening conditions, his face never betrayed it.
On that day, it was clear he would drive the only way he knew: pedal at to the stop. You never had to fear Gilles wasn't up to the challenge; you feared he might go too fast.
The rain arrived 20 minutes before the start. At the drop of the flag, he would burst past Alan Jones and lead into Turn 1.
That's all he needed. Despite low oil pressure that had him nursing his car to the finish, he would win by 48 seconds.