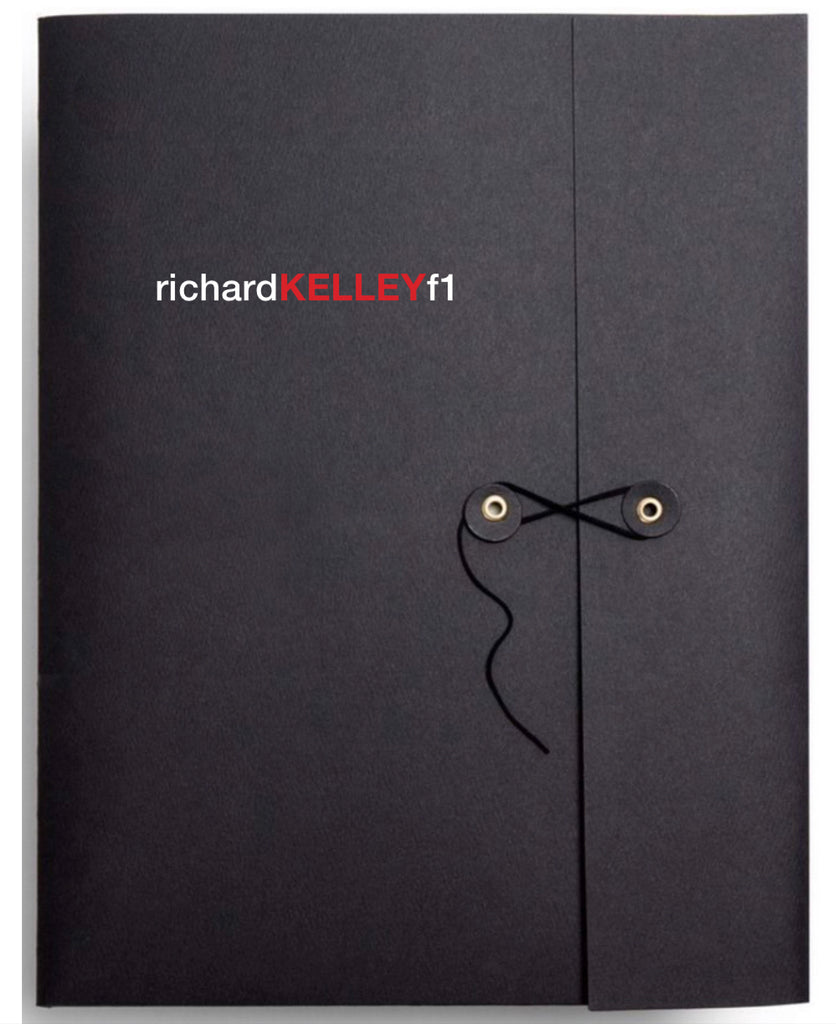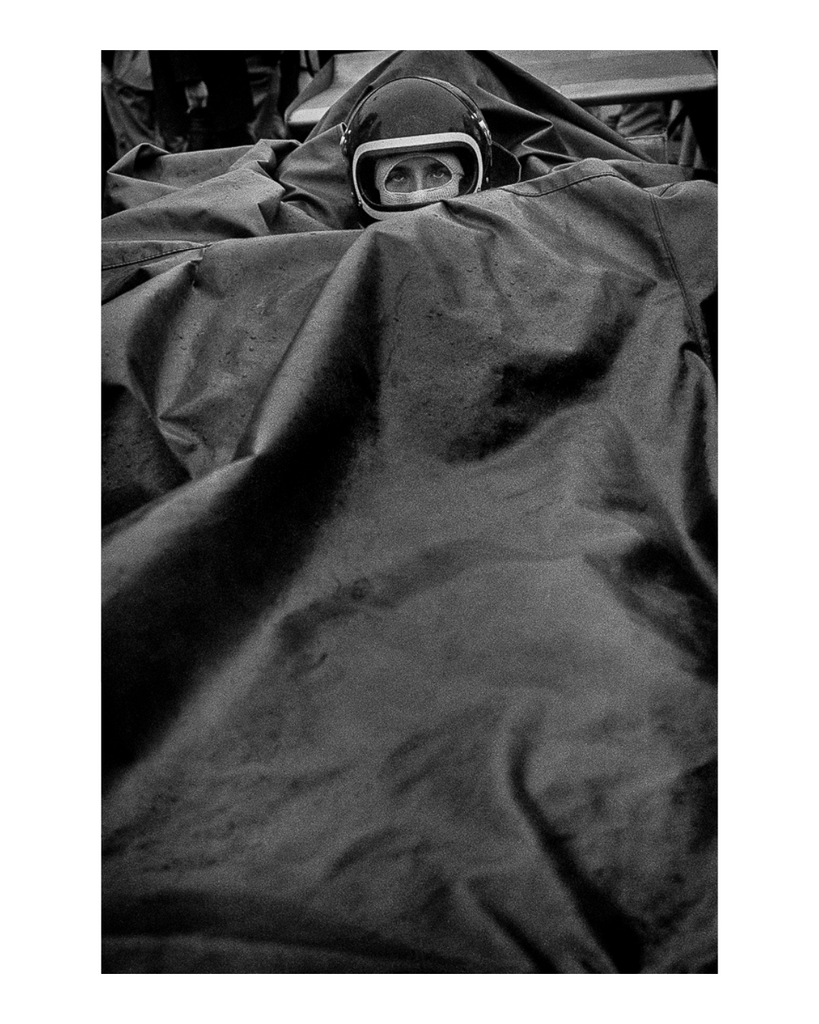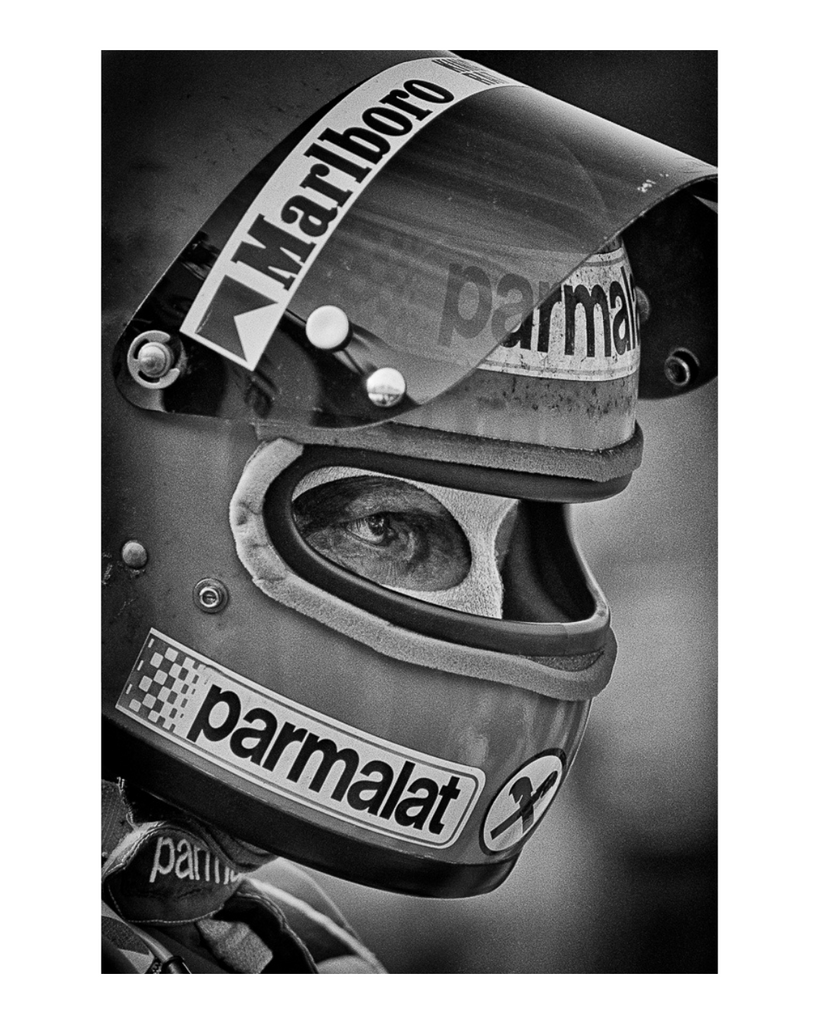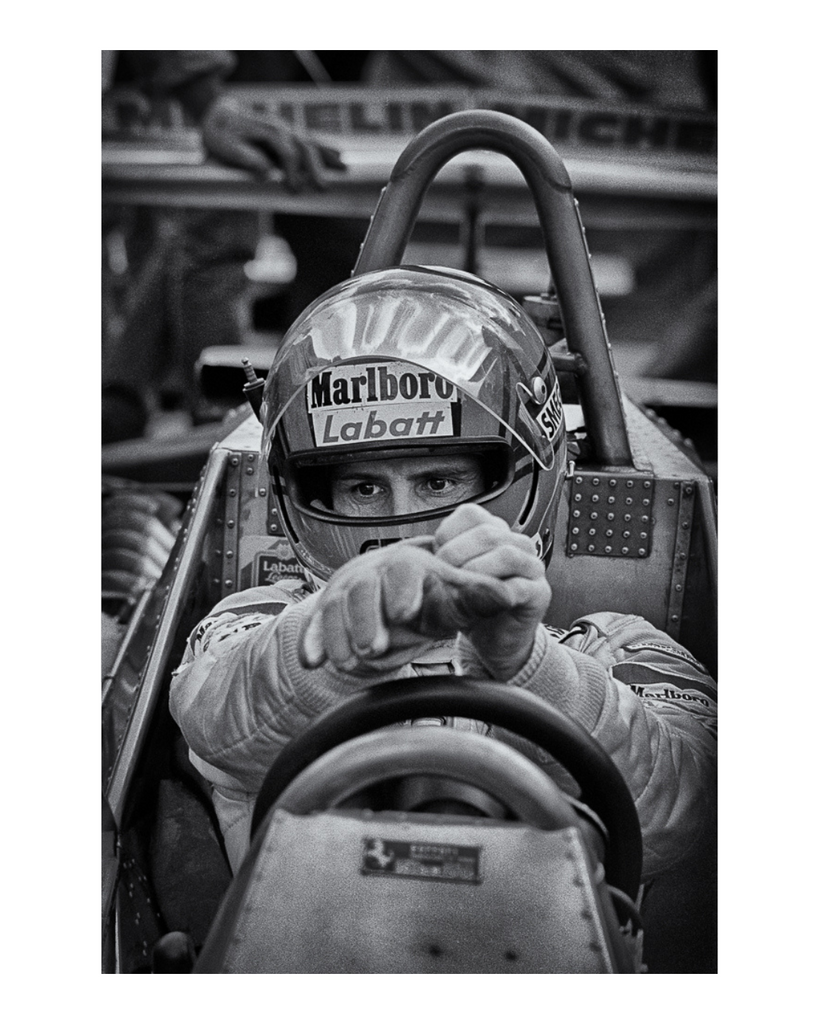 Bravery Collection- Exclusive Portfolio
$1,900.00
Exclusive Portfolio containing 4 of Richard Kelley's F1 20×24 Curated Prints.
Contains:

"Cool"

Jacky Ickx stays cool in the pelting rain as his Ferrari 312 B2's engine heat-soaks prior to practice before the 1972 United States Grand Prix.
Known as the "regenmeister", he serenely accepted the fundamental definition of Formula 1 in those days; when the flag dropped, he used his natural driving talent alone, rather than engineering aides, to take on the best drivers in the world under the most difficult conditions over 200 miles of sinuous pavement.
Jacky would achieve eight wins and 25 podium finishes in Formula One.
Following one of the Scuderia's brief drop in form, he left F1 for the challenge of endurance racing. His timing was perfect.
Thanks to his superlative talent and the engineers for Ford, Mirage and Porsche, Jacky won the 24 Hours of Le Mans six times.
"Authentic"
Niki Lauda remains our touchstone to the Golden Age of Formula One we'll never witness again.
His life was a series of memorable challenges -from a rookie going nowhere to three-time World Champion; a genius of his craft suddenly fighting tenaciously for his life; to finally, a man who bet everything he had to prove he was the best and won.
His tenacity remained limitless to his last breath.
Going forward from meeting him as a young rookie driving for March, I first experienced Formula One through his impressions.
As the years advanced, Niki's spirit pushed me to preserve lasting photographic images of him and his challengers in all their humanity and complexity during those quiet moments of waiting… who, surrounded by their "brothers," fought for the adulation and the immortality of being called World Champion.
"Heart"
Forty-five years ago this morning, I decided to follow François Cevert as he qualified for the 1973 US Grand Prix. He would inherit Jackie Stewart's leadership position and be the heart of the 1974 Tyrrell team.
That morning he seemed on top of the world as he picked up Helen, Jackie's wife for a bear hug. At the beginning of practice, I was my usual " fly on the wall" around the Tyrrell pit, when I noticed François suddenly become pensive and quiet – something was on his mind.
I selected a spot where I was alone in the rear of the Tyrrell pit stall, shooting him backlit with a longer lens, concentrating on isolating Jackie Stewart and Derek Gardner as they bent over François, deep in conversation concerning his setup.
This is my final frame of François, 26A. His eyes seemed to look through me into the distance – so deep it was chilling – I couldn't make another frame of his face.
François buttoned up to leave the pits and blew Helen a kiss as he slowly slipped out onto the track. I headed toward the Esses on the back of the circuit but halfway there I noticed that the engines had gone silent. It had been less than two minutes.
When I arrived at the Esses, I saw François' car inverted atop the twisted Armco; François was still in the car. Heinz Klutemeier from Sports Illustrated ran up, blocking my path and whispered "…don't go over. He's gone."
My mind instantly locked up – I lost my bearings. It took what felt like an hour to return to the Paddock where it was a sea of open grief.
Implausible horror had paid a visit and no one there that day, especially me, would ever be the same. Salut François.
"Hero"

I will always remember Gilles Villeneuve, alone in his 312T4, as rain approached and he prepared to win the 1979 US Grand Prix.
The weather was deteriorating quickly, and as drivers milled about, chewing their fingernails and speaking softly to their engineers, they all had their eyes on the darkening skies. While they intended to wait until the last instant to buckle in, Gilles was already sitting calmly in the cockpit; belts pulled to near race-tightness; the huge one-piece Ferrari cowling lying next to him on the tarmac.
Gilles had devastated the entire field during Friday's torrential rain-soaked practice; setting times 22 seconds faster than any Goodyear-shod car, and a staggering 12 seconds faster than his teammate, Jody Scheckter.
With Scheckter now unchallengeable as the new World Champion, Gilles was free to race for himself; doing lap after lap on the limit for the sheer joy of it.
As I sat next to him making these images, he was preparing to do it again. Wearing his "race face," he slowly put on his gloves as the air began to smell of heavy rain. If he was conscious of the worsening conditions, his face never betrayed it.
On that day, it was clear he would drive the only way he knew: pedal at to the stop. You never had to fear Gilles wasn't up to the challenge; you feared he might go too fast.
The rain arrived 20 minutes before the start. At the drop of the flag, he would burst past Alan Jones and lead into Turn 1.
That's all he needed. Despite low oil pressure that had him nursing his car to the finish, he would win by 48 seconds.