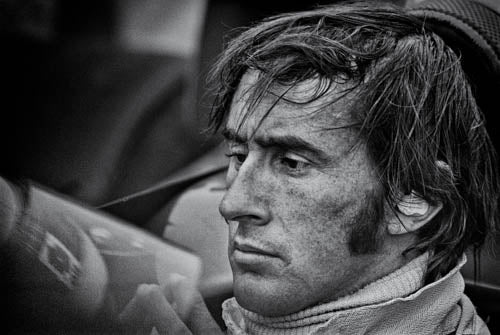 "Intellect"
$395.00
 Back in 1972, the then two-time Formula One World Driving Champion sat oblivious to all of the distractions surrounding him, as he focused on getting the pole for the 1972 United States Grand Prix.
As I crouched and listened, Jackie displayed all of his amazing intellect as he discussed minute changes to his car's balance with engineer Derek Gardner.
He demonstrated a lifetimes' lesson of how a World Champion systematically adjusts his car to be not the fastest, but the easiest to drive at a predetermined point in a race and how he intended to reach that point with a reserve. That lesson turned out to be his gift to me.
Jackie had pushed himself extraordinarily hard during 1972, competing in Formula One as well as the European Touring Car Championship. That exhausting schedule led to an enforced month's layoff with gastritis.
Still, he won four Grands Prix that season and finished second in the championship.
In the race, he built a three-second lead after the first lap and won with 40 seconds to spare.